COUNTDOWN TO REWILD YOUR SENSES – LIVE
Are you ready to take those first steps to creating your own path? Would you like to find a path that allows you to get a clear look of what a balanced life can mean for you? Now is the time to tailor a life that leaves enough space for you to pursue your own dreams and goals without feeling guilty for doing so.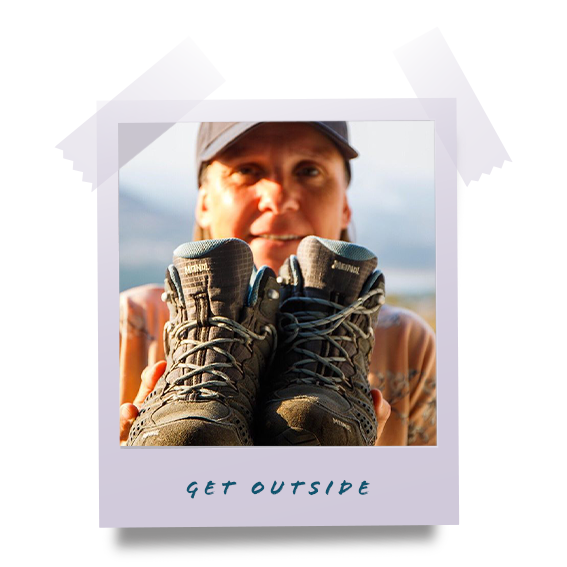 Want to test the waters first? Start with our FREE #60daystodiscover challenge!
60 days to discover your Backyard
10 min. a day – 60 min. a week
Challenge yourself to get outside, discover your Backyard and clear your mind!
Do this for 60 days, 10 minutes a day, 60 minutes a week (yes, you get one day a week off). It's simple and yet has so many benefits…
The next, special edition of the challenge starts on Thursday the 1st of October and ends on Friday the 30th of October.
It's the #60daystodiscover – SPRINT challenge!
60 days is plenty of time to create a new habit! I hear you asking the question "Why should I go outside?" Well, there are plenty of benefits but the most important one is that there is NO better way to step away from that rat race and clear your mind!
When you sign up, you'll receive:
Okay, where is the catch?  
Participating in the #60daystodiscover is on the house or should I say on the Backyard! No, there is no catch, no secret subscription where you can't get out of, no monthly hidden fee…
Here is some feedback from other adventure seekers who took up the challenge:
"Nature has much beauty… thanks to #60daystodiscover we can discover it all"

Nick Roef

https://www.instagram.com/_r_u_f_i_o_/
"The best way to clear your mind and fill your lungs with the so much needed oxygen!"

nononsonsmom_an

https://www.instagram.com/nononsonsmom_an/
"Walking really has a healing strength and I discovered that thanks to the #60daystodiscover challenge."

Liesellove

https://www.instagram.com/liesellove.be/
"Peggy promised us that it's a perfect way to create a new habit, this simple challenge has so many benefits..... And I found out so much about my own "backyard" just here in The Netherlands"

Wilma Zwart

https://www.instagram.com/fermate_and_pieter/

Creating YOUR path step by step and we'll do some talking along the way as well.
Are you looking for more personalised support? Then our 4-week step-by-step coaching programme is your go to.
This is why I am opening my doors to everyone who:
We'll see each other every week and tackle that fog in your head. After 4 weeks my clients walk away with a plan in order to:
We walk in White River (South Africa). Send me an email and we'll chat about how we are going to approach this!
Email me
Ready to find more time to do the things you love and find a better balance?
Rewild Your Senses – LIVE
September 14th – November 8th 2020
Do you feel numb and disconnected? Overwhelmed and wish that there would be more hours in a day?
Are you ready to find a balance between what you have to do and LOVE to do?
Then I invite you to join our 8-week online coaching program, Rewild Your Senses.
LEARN WHAT IT TAKES TO CREATE THAT YOUR PATHWAY TO THAT BALANCED LIFE FROM THE COMFORT OF YOUR OWN SPACE.
HERE'S THE DEAL
To create your own path, you need time and have to make that mind shift from being busy to being productive so you can plan those things you always wanted.
You're working hard to achieve this, but you still feel:
If you are at the point of chucking your growing pile of self-help books out the window and had enough of cookie-cutter online seminars that tell you a whole bunch of stuff you already know (just in fancy new lingo), you might be ready to:
It doesn't matter whether you are a stay-at-home mom who wants to re-enter the workforce, a burnt-out business maven or someone who has suffered tremendous personal loss and want to regain equilibrium – it is possible and you are important enough to live a happy, fulfilled life.
Do you feel like you've been left out of the loop and that everyone else seems to know a secret to happiness that has been kept from you? Do these shiny, happy people and their purpose-driven lives only serve to highlight the inadequacies of your own? Then it's time to jump in with both feet and create the life you want!
You may have enrolled in countless mindfulness programmes, chatted the ears of friends who don't understand what the hell you're on about, gotten wrapped up on Facebook groups and so much more, without any tangible results. There is a reason for this – you have been skipping a few vital foundational steps or you've used tactics that aren't suited to you.
**Ray of hope alert**
I am here to help you. If you are willing to give me 8 weeks of your time, I will give you all the tools you need to get the ball rolling. There will be action, there will be doing. We are going to take the plan off the page into real life where you can start to see and feel actual differences and create the path to the life that you are ready to embrace.
Enroll today!
This coaching course is for everyone who:
By the end of this course, you'll be able to:
In just 8 weeks we can stimulate the enormous transformation that will lead to the shinier, happier version of you!
OVERVIEW OF THE MODULES
Week 01 – Let's talk about that balanced life! What does it mean for you?
Week 02 – What is is that you really want? 
Week 03 – What keeps you from achieving your goals? 
Week 04 – Letting GO and learn how to say NO
Week 05
– Setting your GOALS and make a PLAN!
Week 06 – How to PLAN and structure your day?
Week 07 – How to stay motivated and on track?!
Week 08– Take care of your body, mind and soul
When you sign up, you'll receive:
Who is this Peggy person?
Hi! You have found your way to A Backyard Hiker! Welcome, I'm Peggy, A Backyard Hiker who found the direction I was looking for when I allowed myself to get a little lost by venturing outside – both in terms of my safe little comfort zone and my literal house. In the process I learned a lot about zoning in on the things that make me tick, and now I am guiding others to do the same.
I am here to help fine folks like you to find their stride and take the precious time to pursue their dreams and goals without feeling guilty for making the space in their lives to do so. We'll be taking action, kicking overthinking to the curb, jettisoning the idea of being perfect, and get you on a path towards a happier you.
I'll be your guide on your journey through a process that will unleash the happier version of you and turn you into a confident woman that has her priorities straight. In just 8 weeks' time, you'll be able to look back and say goodbye to the old you and embrace the new path you've carved out for yourself.
Still got some doubts? Just drop us an email!
Early bird special – One-Time Payment of $495
Don't wait until tomorrow, take that first step to that balanced life today!
The doors for Rewild Your Senses are currently closed. Get on the waiting list to be the first to know when doors will be opening again!
Get on the waiting list!
Early bird special – Payment made easy – six installments of $95
Save your spot now and make it easy for yourself with our payment plan. Don't wait until tomorrow with something that can make your life easier today!
The doors for Rewild Your Senses are currently closed. Get on the waiting list to be the first to know when doors will be opening again!
Get on the waiting list!