Hi, I'm Peggy, A Backyard Hiker and if I'm
convinced of one thing, finding that
balance in your life is absolutely the best
way possible to enjoy an existence of
freedom and adventure (even if adventure
means having time to play a board game
with the family). It's liberating beyond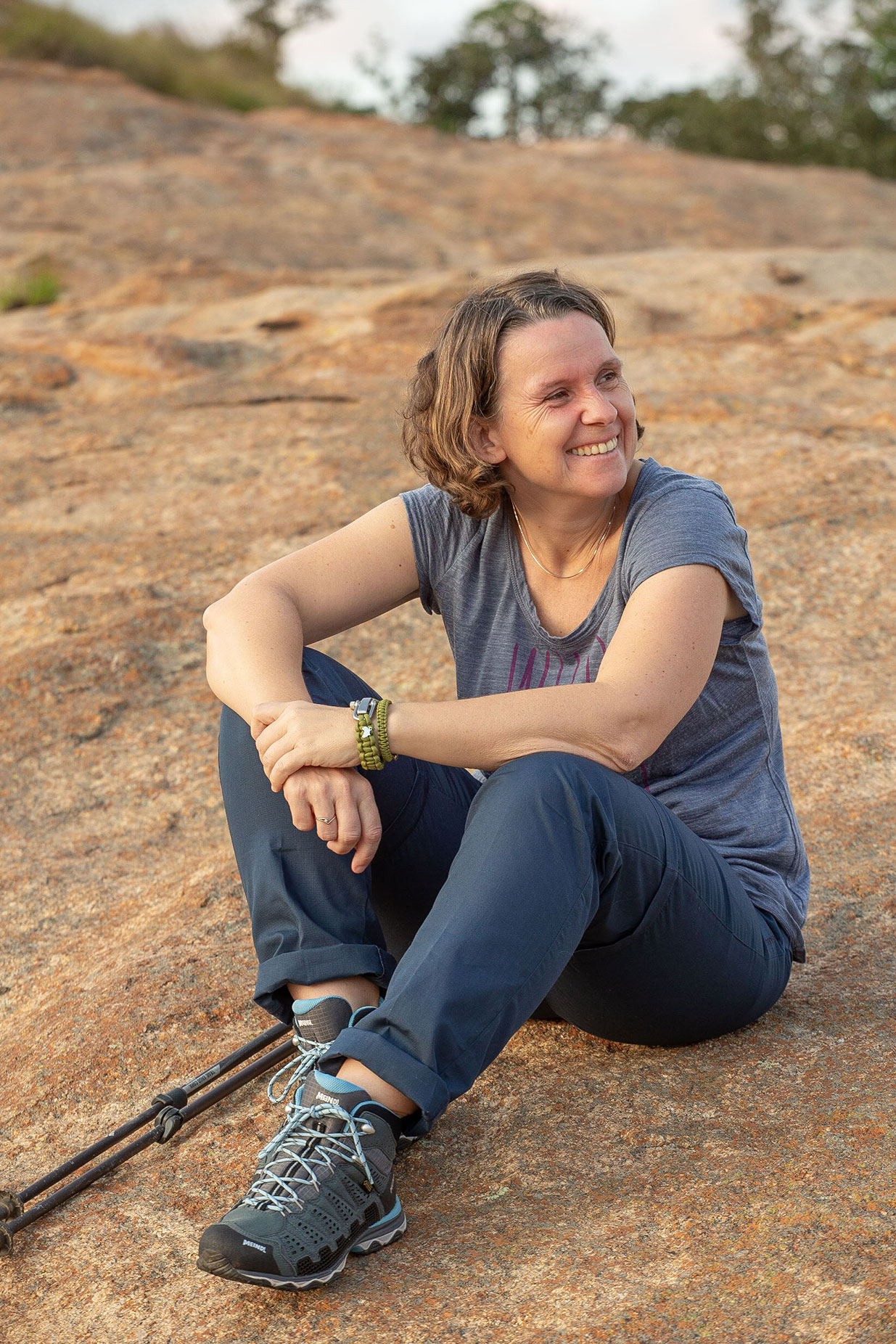 **Good news alert**
With the tools I am going to share with you, you can make this a reality.
**Truth bomb alert**
This is not a quick fix. If anyone is trying to sell you a one-size-fits-all lifestyle solution that will be smooth sailing and take a week or two, run the other way. Finding your balance takes a lot of hustle and heart. It takes work.
Too often, we waste our time and energy trying to figure out where to start. It's easy to get overwhelmed with all the options available out there and everyone trying to convince you that their technique is the right one.
You are probably spending too much time on:
… all while working hard to find some time for yourself as well.
I have come to understand that many of us struggle our way through a very busy day without feeling that we have accomplished anything at all.
To make matters worse, you often end up dreading that tomorrow is going to be even worse because you didn't even get to half of the things on your to-do list.
When you are stuck in this misery, it's easy to feel like a failure and get to the point where your body throws in the towel and you end up with a bad case of burnout.
BUT, IT DOESN'T HAVE TO BE THIS WAY
I have worked with so many individuals like you who are at that point in life where they ask themselves if this what live is all about? Running around from one place to another and trying to become that perfect person everybody wants me to be? Leaving unfinished projects lying around that drive you crazy?
You may have:
You really are trying with the best of intentions but still don't feel like you're getting anywhere. So, what is the secret – the thing that will actually make a difference?
Simple. YOU NEED TO START WITH THE RIGHT FOUNDATION.
Think about all those programs you have bought and haven't acted on; all the guides and freebies that are sitting on your virtual shelf collecting dust. I can almost guarantee that most of them started you at step 5, when what you really need are steps 1-4.
WHAT ARE THOSE FOUNDATIONAL STEPS?
This stuff sounds obvious I know, of course you need all of this, right? But my guess is that if you've tried everything and nothing seems to be working you may be guilty of skipping a few of these super important foundational steps.
This is why I am opening my doors to everyone who:
Since I've founded A Backyard Hiker, I've worked with many moms, freelancers and corporate employees to help them find that balance back in their lives. By helping them to focus on the right things and nailing those foundations, we lay the groundwork for making more progress in a few weeks that they might have made in the previous year or more.
My clients have gone on to:
These big results all start in the same space – turning down the noise and focusing on the right things.
Listen, I am NOT promising you overnight success (if that was really possible, I'd be a millionaire right now). I am promising you a step-by-step plan that will give you the tools to create the flexibility and freedom to live your one wonderful life.
This only works if you are ready to take those first steps towards the new you, stop investing in the wrong places and actually start making progress.
So why me, you may ask? Why is this Peggy
person the right person to guide me on
my way? What's her story?
Here's the deal. I know first-hand how hard it can be to get in the right mindset because I used to be exactly where you are now – running around from once place to another, trying to make it all work and wishing that today I could maybe find half an hour to sit down and relax. I was living up to expectations that weren't my own.
There is so much to do when you are getting started in life, so many different opinions about what the "best" way is (and yup – everybody got their own opinions on the matter too). I'm here to show you how EASY it can be when you stop wasting time on the wrong stuff and start spending time on the right stuff.
What I won't do is feed you a load of nonsense about it being easy. Sorry, it's not going to be all that simple to create a balanced life and I will be bringing a healthy dose of truth to the table. YOU'RE GOING TO HAVE TO WORK FOR IT.
I want to help you cut through the fog that is out there and get you focused on what will actually help you get there; soft and fluffy promises not included. Just simplified strategy, serious action, and a no-fluff approach to making that balanced life work.
AS FOR MY PERSONAL AND PROFESSIONAL HISTORY – HERE YOU GO.
My life has been the definition of 'being balanced' as my work history has too. I live in beautiful South Africa, have learned to say NO and after letting go of trying to achieve that "perfect" life it all of a sudden got perfect – my kind of perfect.
Before my A backyard Hiker journey started:
But the truth was, despite the fact I was very successful, there was something missing. I didn't allow myself to shut of my computer at four and go for a random walk. Two weeks' vacation? Maybe, just maybe when it would fit in my agenda of events and weddings I had lined up. What kind of life was that?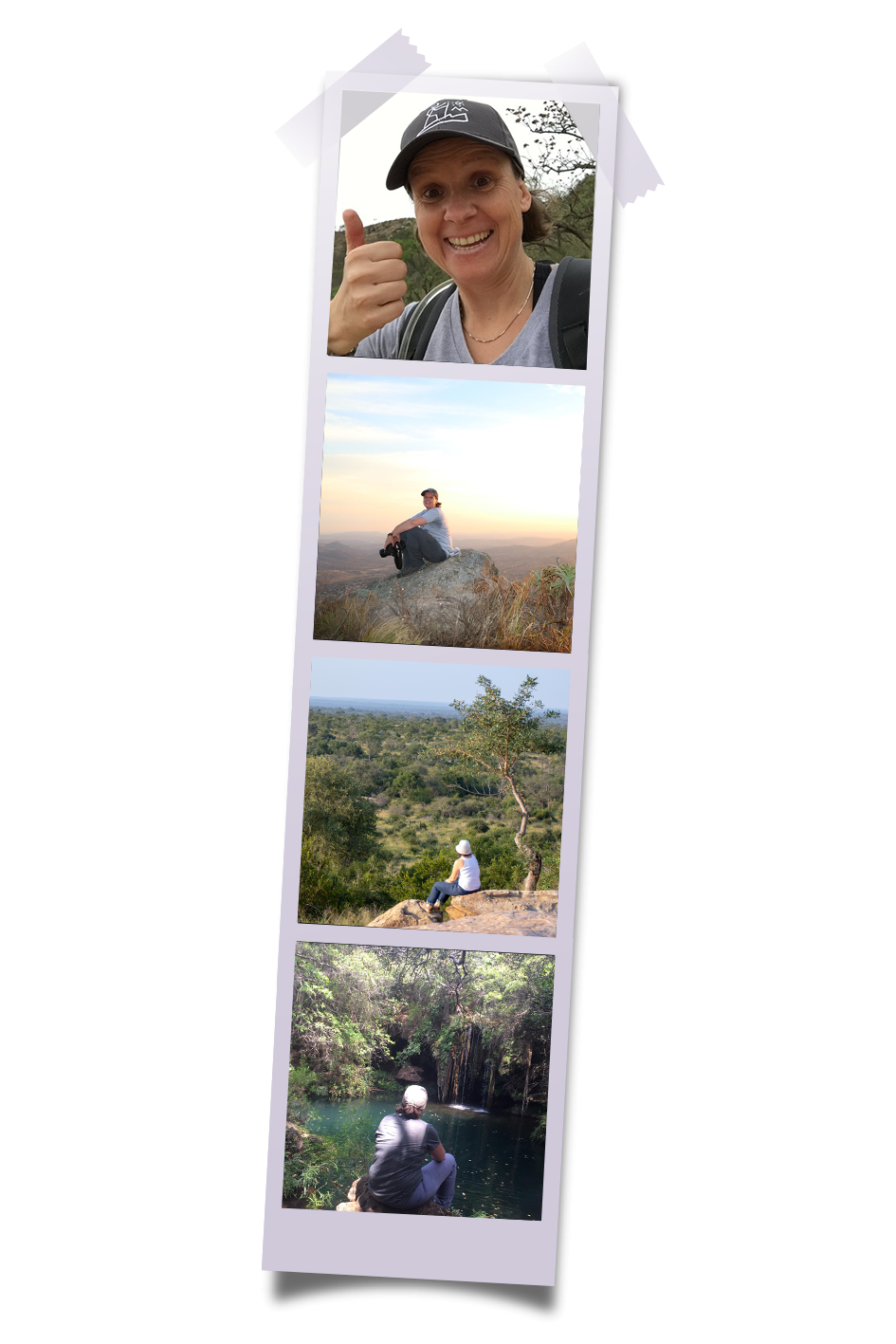 I knew that if I wanted to make that important switch to obtain the balanced life I craved, I had to make some changes. And oh boy, I made some drastic changes!
I sold my companies, packed up and moved to a different country – sunny South-Africa. Yep, it changed my life. But you know, changing your life doesn't need to include such dramatic changes. Because, the most important lessons I learned were not because of the move, it was because I started to approach life from a different angle.
I learned to say no. I'm not busy anymore but productive, I actually got time to the things I like and love while building a new business (yes, I guess once an entrepreneur, always an entrepreneur).
I eventually started A Backyard Hiker to inspire others to take a step away from their daily burdens and to let themselves breathe again. To learn to connect with themselves by reconnecting with nature.
This is how I found out that this was going to be my new path in life. One that perfectly intertwined all the skills life taught me in the past years:
All of this combined with a healthy dose of ass-kicking and cheerleading because I believe in every person's willpower to pave their own perfect way.
So, if you:
Then you are in the right place. Let's work together to help you move from being lost to knowing exactly where you are headed.